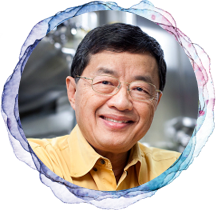 Patrick Y. Yang, Ph.D.

Chairman of the Board

Dr. Pat Yang is Executive Chairman, AltruBio. In addition to serving on corporate boards, he also works as an independent consultant in the Biopharmaceutical industry.
Most recently, Dr. Yang worked at Juno Therapeutics in Seattleas Executive Vice President from September 2017 to January 2019.
Previously, Dr. Yang was Roche's Global Head of Technical Operations in Switzerland from 2009 to 2013. In this role, he was responsible for Roche's biopharmaceutical process development, engineering, quality, technical regulatory, supply chain and 21 manufacturing plants with approximately 15,000 employees around the world -- with an operating budget of $4.5 billion per year. He was previously executive vice president, Product Operations of Genentech, Inc. based in the San Francisco Bay area. Dr. Yang joined Genentech in 2003 as vice president, Manufacturing and Engineering, and was promoted to senior vice president, Product Operations, in December 2004, then to executive vice president in January 2006.
Prior to joining Genentech, Dr. Yang served for 11 years at Merck & Company in New Jersey in various leadership positions including vice president of Asia Pacific Operations and vice president of Global Supply Chain Management. Prior to joining Merck in 1992, Yang spent 12 years at General Electric, serving in several research, engineering, technology, and manufacturing leadership roles with increasing scope of responsibilities. Before GE, Dr. Yang spent five years in aerospace control systems research and development with Life Systems, Inc.
Dr. Yang holds a Bachelor of Science from the National Chiao Tung University in Taiwan, a Master of Science from the University of Cincinnati, and a doctorate in engineering from Ohio State University, Columbus, Ohio. Dr. Yang is a member of Board of Directors for three public companies: Codexis, Amyris, and PharmaEssentia. He also serves on the corporate boards of several private companies including Acepodia, Archigen Biotech, Sana Biotech, and Taiwania Capital Management. He previously served on the boards of two other public companies: Tesoro/Andeaver (2010-2018) and Celladon (2014-2016).